Beyond Insanity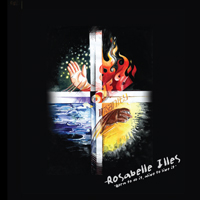 "Beyond Insanity" is my first collection of poetry. The writings in this book tend to communicate a certain "abnormal" feeling. The term "insanity" aims to express this abnormality. Taken together, I wanted to give the frequency that was tapped into when writing these pieces a name. Still, the term "Beyond Insanity" remains hardly specific.
One may question its limits, location or components. This puzzlement is precisely what triggered these pieces and awakened a sense of curiosity in me. The art of posing questions is a powerful endeavor. As the writing "Floating Questionnaire" wonders; "Will you hold on to history? / Or will you follow the veiled mystery?" (Illes, 2005, p. 36). For it is only when you let go of yourself while trusting "the you," you will dare to discover and face hidden realities resting unrevealed.
Each writing is accompanied by an illustration created by the incredibly gifted and established Aruban artist Nigel Matthew.